Conveyor Crossover Platforms & Bridges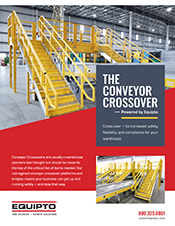 The Conveyor Crossover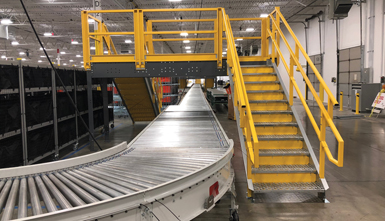 With EQUIPTO's expanded line of conveyor crossover platforms and bridges you will keep your workers safe and business running smoothly.
Our enhanced conveyor crossovers put a focus on worker safety, while still allowing warehouses and fulfillment centers to be flexible when it comes to the design of their spaces and to the speed with which change is often necessary. Our uniquely designed, configurable Conveyor Crossover Platforms provide:
Handle higher worker traffic
Straddle wider spans
Meet increased safety requirements
Offer unparalleled flexibility
EQUIPTO manufactures high-performing, long-lasting conveyor crossover bridges and platforms that provide a safe, uncluttered path for your workers to get up and over conveyors, ducts, pipes, machinery, busy work zones, and other workplace obstacles and potential hazards, comply with the most stringent regulations, and can be configured perfectly into your operational space.
Conveyor Crossover Unique Features & Benefits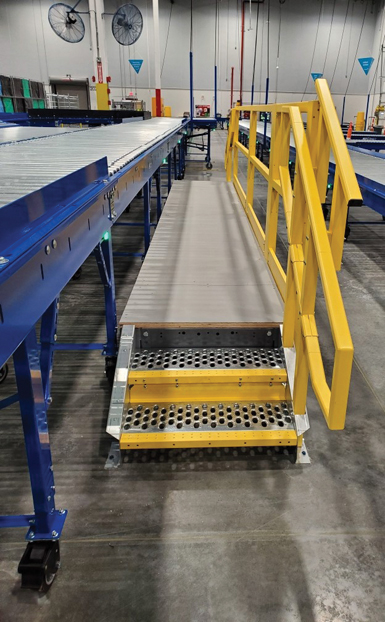 EQUIPTO's conveyor crossover platforms, bridges, and stairways provide safe, multi-level access up, across, and down from conveyors. EQUIPTO's versatile design provides for multiple configurations using the same components, allowing for multiple shapes and altering the exit path if necessary.
Minimize Slips & Trips
Our flush top stair is designed to minimize slips and trips. Non-skid steps reduce potential falls. Stair options for all stairs are available in galvanized with a yellow front edge or 100% galvanized steel.
Decking Options
Decking options for all platforms available in black bar grating and grey skid resistant decking, ResinDek™.
Handrails
Contoured handrail and post design for extra protection. Several stairway configurations, including single platform end and dual-platform ends with one or two railings.
Design & Construction
Sturdy hot-dipped galvanized steel construction. The modular design allows for reconfiguration, eliminating delays for additional parts.
EQUIPTO's conveyor crossover bridges and platforms are expertly engineered, skillfully manufactured, and rigidly tested to provide the safety you require.
With more than 200 different configurations and sizes our expanded product line has the following solutions to meet your unique needs in your facility.
IBC-Compliant Conveyor Crossovers
EQUIPTO's most expansive line of Conveyor Crossovers are IBC compliant. These crossovers range from standard sizes to extended heights and lengths allowing for crossing over multiple conveyors and configurations.
EQUIPTO's crossovers can be used permanently or temporarily. Each system has the parts to be transformed into one of four standard configurations, depending on what changes are needed in your environment. Our crossovers are designed to handle higher worker traffic and have enhanced safety features built into the crossover for a safe and reliable experience.
OSHA-Compliant Conveyor Crossovers
The OSHA-compliant crossover is a smaller footprint (compared to the IBC compliant crossovers) and is compliant with the OSHA specification. OSHA-Compliant Conveyor Crossover can be used permanently or temporarily. Each system has the parts to be transformed into one of four standard configurations, depending on what changes are needed in your environment.
Low-Height Platforms
The Low-Height Platform line provides employees easy and safe accessibility to floor-level conveyors. Strategically position your platform to the left or the right of the conveyor. Like all of EQUIPTO's platforms, they are designed with flexibility in mind and meet the most stringent compliance regulations and safety requirements for employee access. Make the Low-Height Platform stationary or movable with locking casters.
Elevated Platforms
Elevated Platforms provide access to elevated conveyors for employees. Elevated Platforms only have one stairway. Similar to the other platforms, the Elevated Platform has the same Equipto features and safety measures to ensure safe and productive access.
Maintenance Platforms
Maintenance Access Platforms provide access to elevated conveyors by engineers and maintenance personnel. Ships stairways, a steeper stairway, help reduce the floor footprint the platform takes up. This is perfect for those difficult or tight spaces that still need access for repairs and maintenance.
Platform Unique Features & Benefits
Railing & Stairway Protection
EQUIPTO's wire (2" by 2") grids for stairways and platforms to prevent small items from falling through OSHA/IBC approved railing systems.
Safety First with Railings & Gates
Self-closing safety gate at the top of the stairs. Contoured handrail and post design for extra protection.
Low-Rise Rails for the Perfect Fit
Optional platform railings in a low rise (21") wire grid format to fit under conveyors and offer fall and small parts protection.
Industries Served
From the smallest workshop to the largest eCommerce fulfillment facility, EQUIPTO provides the perfect crossover bridges and platforms for a wide variety of industries and businesses:
Ecommerce Distribution/Fulfillment
Warehouses
Fulfillment centers
Dealerships
Parts warehouses
Home improvement stores
Storage facilities
Large-scale warehouses
Expert In-House Installation Team
EQUIPTO offers on-site installation by a team of dedicated in-house professionals. Because they work exclusively with EQUIPTO's products, our experts know every facet of our designs, ensuring top-quality installation.
A Partner for Storage & Material Handling
EQUIPTO has the experience, expertise, and equipment to solve your most challenging storage needs.
In-house experts provide on-site, high-quality installation
Company in operation for more than a century
Products made in America
Equipment sold and distributed across the United States, Asia, Africa, Central America, and South America
Diverse customer list – from Harley Davidson and Boeing to Spencer Gifts
Global headquarters in Tatamy, PA