Distribution Center Storage Solutions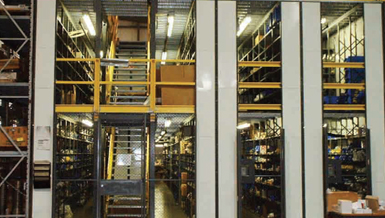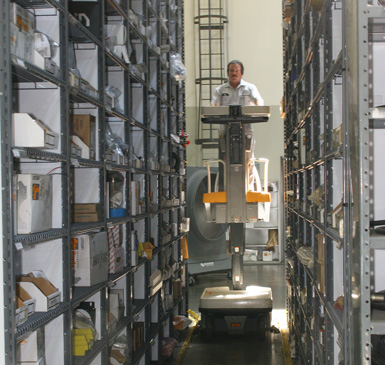 Your supply chain must be strong and solid – you can't afford to have it be weak or broken.
Distribution facilities store products for relatively less time than warehouses so the flow velocity of items is much greater. A distribution center is the bridge between you and your customers – a well-run distribution center effectively and efficiently meets customer requirements.
The bottom line is a weak, slow, unorganized distribution system can be hazardous to your bottom line. You must be able to effectively and efficiently distribute and deliver orders, parts, products, components and equipment without delays or interruptions, on time and in one piece.
EQUIPTO designs, develops and delivers high-performing, long-lasting, customized storage solutions for distribution centers that organize products and parts, eliminate problematic clutter, expand storage capacity, and increase productivity.
With our high-quality, customized storage solutions, your distribution facility can dramatically increase:
Organization
EQUIPTO's customized distribution center storage solutions keep your storage areas orderly and clear of clutter. Our storage systems for distribution facilities offer the best storage with a vast number of possible customizable and reconfigure solutions, all adapted to your specific needs. Organize your products, supplies and items in an orderly fashion.
Efficiency
EQUIPTO's distribution center storage solutions can double your storage capacity within the same square footage, providing better access to parts and products and making your operation more efficient.
Productivity
A streamlined distribution facility creates higher throughput and less redundancy. Our versatile, customized distribution center storage solutions can handle large volumes of materials and equipment to optimize your operations.
Safety
An organized, orderly distribution facility is a safe and secure distribution facility. Our customized distribution center storage solutions ensure no loose items are strew around your facility floor creating hazardous conditions, and that your aisles are clear – you know everything exactly where everything thing at all times.
Cost Effectiveness
EQUIPTO's customized distribution center storage solutions are designed and engineered to handle high loads. They also can help minimize construction costs if your need to expand your distribution facility operations. All that function and performance saves you money.
Providing The Storage Solution You Need
EQUIPTO manufactures an extensive high-quality storage solutions to make your distribution facility efficient, organized, safe and cost effective.
Conveyor Crossover Platforms
EQUIPTO manufactures high-performing, long-lasting conveyor crossover bridges and platforms that provide a safe, uncluttered path for your workers to get up and over conveyors, ducts, pipes, machinery, busy work zones and other workplace obstacles and potential hazards, comply with the most stringent regulations, and can be configured perfectly into your operational space.
The growth of large-scale fulfillment and distribution centers prompted EQUIPTO to create an enhanced line of conveyor crossover platforms and bridges to:
Handle higher worker traffic
Straddle wider spans
Meet increased safety requirements
Offer unparalleled flexibility
Mobile Aisles
Mobile aisle storage systems are created when EQUIPTO's shelves, drawers, and racks are mounted on a carriage or rail system, making them easy to move and re-configure.
Making use of both drawers and shelving, EQUIPTO V-Grip™ storage systems provide the ultimate in storage adaptation and future flexibility. Our systems range from 12 inches to 36 inches in depth, 36 to 48 inches wide, and up to 180 inches high.
Mobile aisle storage systems eliminate static storage areas, significantly shrink the space taken up by fixed storage units, and can double your storage capacity using the same amount of floor space.
Pallet Rack Mobile Aisle Systems
A pallet rack mobile aisle system is exactly what it sounds like: a pallet rack which leverages the benefits of a mobile aisle. This type of system is ideal for warehouses. The exact pallet rack mobile aisle system you need depends on a number of factors, including cost, your available floor space, ceiling height and pallet size.
Our industrial high-density mobile storage systems designed for pallet racking can boost your storage capacity by 50% and maximize productivity without compromising selectivity or efficiency.
Mezzanine Platforms
EQUIPTO designs, develops, manufactures, and delivers high-performing, long-lasting industrial mezzanines, work platforms, and stair landings ideal to double or triple your overhead storage capacity and maximize your limited work areas.
Our industrial mezzanines, workplace platforms, and stair landings allow you to effectively and efficiently utilize empty space above equipment and machinery.
Serving Your Industry
EQUIPTO's customized distribution facility storage solutions are ideal for a wide range of industries that must quickly and safely fulfill orders and get products to the marketplace and customers:
Fulfillment operations
Packages and mail
Automotive parts
Manufacturing plants
Consumer products
Books and educational materials
Medical supplies
Retail products
Communications components

Delivering The Features You Want
EQUIPTO's high-performing, long-lasting, storage solutions allow you to maximize your warehouse space and organize your products to increase efficiency, enhance productivity and ensure safety.
Our customized storage solutions are expertly engineered, skillfully manufactured and rigidly tested to ensure they meet the exacting specifications you require and provide the superior performance you want. EQUIPTO's storage solutions also provide a host of features and benefits:
In-house experts provide on-site, high-quality installation
Installation service available
Proudly made in the USA – all raw materials sourced and manufactured in America
Engineered with high-quality material and parts
Can handle high-load capacities
Accommodate a variety of requirements – we offer 20 models of warehouse storage systems
Quick order turnaround
Limited lifetime warranty

Your Storage Partner
EQUIPTO has the experience, expertise and the equipment to solve your most challenging storage needs.
Company has been in operation for more than a century
Solutions and equipment sold and distributed across the United States, Asia, Africa, Central America and South America
Diverse customer list – from large shipping and logistics firms to manufacturers like Harley Davidson and Boeing to Spencer Gifts
Global headquarters in Tatamy, Pa.