Secure Weapons Storage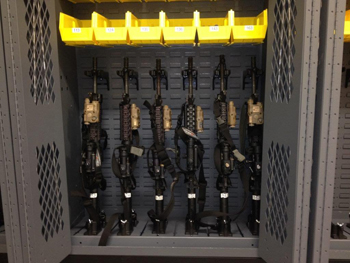 In addition to new weapon systems, armorers are now challenged with an ever-increasing quantity and array of items which must be securely stored and organized in their limited space armories. EQUIPTO has worked hard to create weapons storage options which are deployable, scalable, and sustainable.
EQUIPTO offers a number of solutions, some developed with direct input from United States armed forces, that can adapt to properly store any and all weapons. Modular platforms allow custom storage with unlimited configurations according to your wants and needs while assuring straight-line access and organizational awareness. Internal components are also available, including shelves, saddles, bins and trays that adjust on the fly.