Turn-Key Installation Services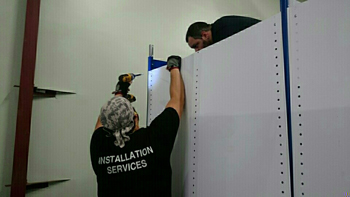 Having purchased the highest quality storage solutions available on the market from EQUIPTO – sometimes you need help in getting it all set up – especially if it is a multi-level or mobile aisle application.
EQUIPTO offers our own Installation Service Division providing quality, turnkey services on our full line of products throughout the United States. Whether it is a complex parts room incorporating a mezzanine, mobile aisle, work centers and modular drawer cabinets or a short run of shelving, EQUIPTO has the right team for you.
EQUIPTO has had great success with providing professional installations of our product line to our distributors and customers. It is a value added service for those large and small projects that our customers can use to help their projects go together easier without the hassle of reading prints and assembly instructions. It can also be valuable when relocating or updating a system.
EQUIPTO has provided Installation Services throughout the United States, Mexico,
Japan, and Korea and are able to send a team of trained and experienced installers anywhere in the world.