Miltary CONNEX
Storage Systems
An EQUIPTO Connex Module is designed to organize your storage container, however, that does not limit your use. When you are finished using the Connex Module as a storage container, you can easily relocate the Module for additional storage into a Parts Room or Tool Room.
AN EVOLUTION OF THE CONNEX MODULE
Once you have decided where to install the Module, EQUIPTO offers endless opportunities to expand your storage horizons. Looking for additional storage capacity in the same area, your Connex Module can evolve into a Deck-over Mezzanine Structure or a High Density Mobile Aisle Storage System.

The EQUIPTO Connex Module for the military is a fully deployable, mission ready storage system. Store gear and supplies, or create a portable workcenter for use wherever is needed. Disassemble and reassemble your CONNEX system as quickly as needs change.
Drawers, Doors and Deployment Kits Enhance your Connex Modules with optional kits and accessory packs.
Download the NEW Connex Module Brochure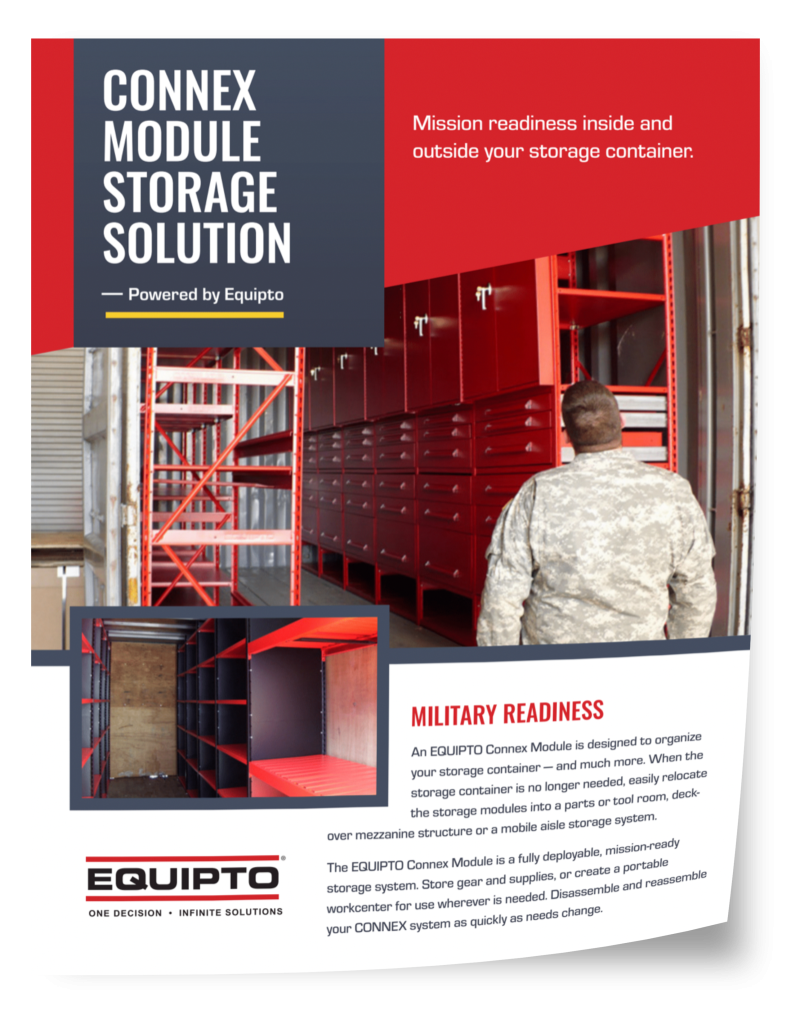 Expert In-House
Installation Team
EQUIPTO offers on-site installation by a team of dedicated in-house professionals. Because they work exclusively with EQUIPTO's products, our experts know every facet of our designs, ensuring top-quality installation.
A Partner for Storage & Material Handling
EQUIPTO has the experience, expertise, and equipment to solve your most challenging storage needs.