Warehouse Storage Solutions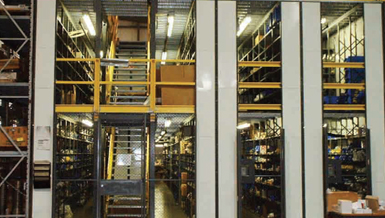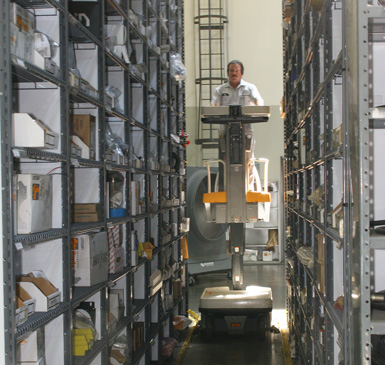 Do you know where everything is in your warehouse?
You should. A well-run warehouse that provides an organized, safe and secure location for receiving and storing your products is essential for effective and efficient inventory management.
EQUIPTO designs, develops and delivers high-performing, long-lasting warehouse storage solutions that organize your products and parts, eliminate problematic clutter, expand your storage capacity, and increase your productivity.
By utilizing EQUIPTO's customized warehouse storage solutions, your warehousing operation can dramatically increase:
Organization
EQUIPTO's customized warehouse storage solutions keep your storage areas orderly and clear of clutter. Our warehouse storage systems offer the best storage with a vast number of possible customizable and reconfigure solutions, all adapted to your specific needs. Organize your products, parts, supplies and items in an orderly, logical, and systemic fashion.
Efficiency
EQUIPTO's warehouse storage solutions can double your storage capacity within the same square footage, providing better access to parts and products, ensuring accurate inventory counts, and making your operation more efficient.
Productivity
A streamlined warehouse creates higher throughput and less redundancy. Our versatile, customized warehouse storage solutions can handle large volumes of materials and equipment. Having your parts and products organized saves you time and money, and increases the amount of work you get done.
Safety
An organized, orderly warehouse is a safe and secure warehouse. Our customized warehouse storage solutions ensure no loose items are strew around your warehouse floor creating hazards and that your aisles are clear – everything is exactly where it should be.
Cost Effectiveness
EQUIPTO's customized warehouse storage solutions are designed and engineered to handle high loads. Using them also can help minimize construction costs if your need to expand your warehouse operations. All that function and performance means you save money.
Providing The Storage Solution You Need
EQUIPTO manufactures and supplies an extensive selection of high-quality storage solutions to make your warehouse efficient, organized, safe and cost effective.
Mobile Aisles
Mobile aisle storage systems are created when EQUIPTO's shelves, drawers, and racks are mounted on a carriage or rail system, making them easy to move and re-configure.
Making use of both drawers and shelving, EQUIPTO V-Grip™ storage systems provide the ultimate in storage adaptation and future flexibility. Our systems range from 12 inches to 36 inches in depth, 36 to 48 inches wide, and up to 180 inches high.
Mobile aisle storage systems eliminate static storage areas, significantly shrink the space taken up by fixed storage units, and can double your storage capacity using the same amount of floor space.
Pallet Rack Mobile Aisle Systems
A pallet rack mobile aisle system is exactly what it sounds like: a pallet rack which leverages the benefits of a mobile aisle. This type of system is ideal for warehouses. The exact pallet rack mobile aisle system you need depends on a number of factors, including cost, your available floor space, ceiling height and pallet size.
Our industrial high-density mobile storage systems designed for pallet racking can boost your storage capacity by 50% and maximize productivity without compromising selectivity or efficiency.
Multi-Level Shelving Decks
EQUIPTO shelving systems make storing parts easy and efficient. We offer shelving in a variety of materials for storing inventory, machinery and equipment, food, and more. With features like height adjustable shelves, corrosion-proof durability, and up to 300 pound per shelf capacities, our shelving can handle whatever you got.
Mezzanine Platforms
EQUIPTO designs, develops, manufactures, and delivers high-performing, long-lasting industrial mezzanines, work platforms, and stair landings ideal to double or triple your overhead storage capacity and maximize your limited work areas. Our industrial mezzanines, workplace platforms, and stair landings allow you to effectively and efficiently utilize empty space above equipment and machinery.
Serving Your Industry
EQUIPTO's customized warehouse storage solution are ideal for a wide range of industries:
Wholesalers
Distributors
Automotive Dealerships and Manufacturers
Food and beverage manufacturers
Manufacturing companies
Temporary storage facilities
Cold storage
EQUIPTO's high-performing, long-lasting warehouse storage solutions can be used to safe and securely store and organize an extensive list of parts, products, components and equipment, including:
Power tools, hand tools, toolboxes
Boxes, files and folders
Carts
Packaging and labels
Wood pallets
Pallets for mechanical and industrial parts
Boxes
Manufactured products
Bins
Production components
Airplane parts
Food and beverage products
Delivering The Benefits You Want
EQUIPTO's high-performing, long-lasting, storage solutions allow you to maximize your warehouse space and organize your products to increase efficiency, enhance productivity and ensure safety.
Our customized storage solutions are expertly engineered, skillfully manufactured and rigidly tested to ensure they meet the exacting specifications you require and provide the superior performance you want. EQUIPTO's storage solutions also provide a host of features and benefits:
In-house experts provide on-site, high-quality installation
Installation service available
Proudly made in the USA – all raw materials sourced and manufactured in America
Engineered with high-quality material and parts
Can handle high-load capacities
Accommodate a variety of requirements – we offer 20 models of warehouse storage systems
Quick order turnaround
Limited lifetime warranty

Your Partner For Storage and Material Handling
EQUIPTO has the experience, expertise and the equipment to solve your most challenging storage needs.
Company has been in operation for more than a century
Storage solutions and equipment sold and distributed across the United States, Asia, Africa, Central America and South America
Diverse customer list – from LEGO, Harley Davidson, Boeing, BMW and Kraft Foods to Spencer Gifts
Global headquarters in Tatamy, Pa.