Mobile Aisle Storage Systems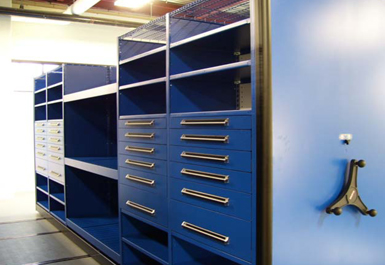 For decades, EQUIPTO has excelled at figuring out the best way for you to put more stuff in less space.
EQUIPTO designs, develops, and delivers durable, reliable, and versatile mobile aisle storage systems ideal for helping you make the most of your storage space. Our mobile aisle storage systems are expertly engineered, skillfully manufactured, and rigidly tested to meet your exact specifications. EQUIPTO's mobile aisle storage systems allow you to:
Safely and securely store more in less space
Significantly increase floor plan flexibility
Easily move your stored material and items
Quickly adjust to expansion or renovation
What are Mobile Aisle Storage Systems?
Mobile aisle storage systems are created when EQUIPTO's shelves, drawers, and racks are mounted on a carriage or rail system, making them easy to move and re-configure. Mobile aisle storage systems eliminate static storage areas and significantly shrink the space taken up by fixed storage units.
EQUIPTO's mobile aisle storage systems can double your storage capacity using the same amount of floor space – a concept known as high-density storage.
From the smallest workshop to the largest eCommerce fulfillment facility, EQUIPTO provides the perfect high-density mobile aisle storage solution for a wide variety of industries and businesses:
Ecommerce Distribution/Fulfillment
Warehouses
Fulfillment centers
Automotive
Dealerships
Repair shops
Parts rooms
Maintenance shops
Government
Municipal record keeping
Police departments
Public Works facilities
Parts rooms
Military
Armed forces bases
Supply facilities
Weapons storage
Educational
Schools
Colleges
Libraries
Museums
Medical
Hospitals
Clinics
Research laboratories
Pharmaceutical firms
Retail
Home improvement stores
Storage facilities
Warehouses
EQUIPTO's mobile aisle storage system combines the benefits of high-density storage with the flexibility of EQUIPTO's V-Grip shelving, modular drawers, and bulk racks. We also manufacture mobile aisle storage systems for pallets, specialized weapons cabinets, and golf clubs racks.
Mobile Aisles with Racks, Drawers, and Shelving
With EQUIPTO Mobile Aisle Systems, you can create storage systems with racks, wire shelves, drawers and even speacially designed golf back, pallet rack and weapons high density storage.
Bulk Rack Beams
Provide storage levels up to 96 inches long
Wire Shelves
Maintains clean look
Provides optimum airflow and light exposure
Modular Drawers
18 inches or 24 inches deep
48 standard sizes available
200 or 400-pound capacity
Pallet Rack Industrial Mobile Aisle System (PRIMA)
Fully motorized
Start/stop motion safety sensors
Keypad entry with lockout
Rows up to 50 feet long
Can handle 75,000 pounds per row – 150,000 pounds back-to-back sections
Easy to expand
Weapons Storage
EQUIPTO's mobile aisle storage system can be configured to use EQUIPTO's specialized cabinets that provide safe, flexible storage of weapons in limited space:
Weapons cabinet
Fast box – single weapon
Fast box – for large or dual weapons
Combined weapons/crew cabinet
Developed and designed with direct input from United States armed forces, EQUIPTO delivers modular platforms that allow custom storage with unlimited configurations.
Golf Club Storage
EQUIPTO offers the Clubstor® line of golf bag storage systems that allows country cubs, golf club, parks and other venues to store more golf bags in less space. The Clubstor line is available with a mobile option that make storage even easier and more flexible.
Store 67% more bags in same space
Provides optimum ventilation to eliminate mildew
Adjustable middle shelf to fit difficult storage situations
Constructed of prime steel – no wood components
Structural lifetime warranty
Mobile Aisle Modes of Operation
EQUIPTO plans and tailors mobile aisle storage systems to your exact needs and specifications, based on the overall dimensions of the available storage space, including doorways, columns, and other obstructions. EQUIPTO's mobile aisle storage systems have a wide variety of options, providing you with the perfect storage solution for your space. Depending on your needs, EQUIPTO has three ways to operate your high-density mobile aisle storage system:
Manual Operation Aisles
Moved by grabbing handle and pulling
For storing lighter items
Lowest Cost
Mechanical Assist Operation
Utilizes a driveshaft/gear chain for easy movement of heavy loads
Operated by rotating handle
Minimal effort needed to move up to 10,000 pounds
All rail drive system ensures uniform movement of carriages
Mechanically Powered Operation
Move units by pushing a button
Drive panel options
Open – cost effective, provides greater visibility of items stored in the mobile aisle system
Closed – more expensive (more material), more secure,
Brackets and Sprockets Options
Anti-Tip Brackets
Raised Foot Brackets
Heavy Load Sprockets
Fast Travel Sprockets
Bumper Extensions
Deck Skirting
Lateral Mobile Aisle Shelving
Movable, lateral systems consist of stationary shelving in the back row and movable shelving in the front row. The movable shelving units are mounted to mobile carriages that are easily moved from side to side on a heavy-duty track. This system is exceptionally flexible, can be easily expanded at any time, and provides fast access to multiple layers of storage.
Lateral track system creates two or three sliding rows of storage
Mounted independently to the floor in front of new or existing equipment
Perfect for alcoves and limited spaces
Bi-File (two-row) and Tri-File (three-row) high-density lateral sliding shelving systems maximize storage capacity
Double or triple the storage space compared to static shelving
The system works well with virtually any type of inventories/equipment and is effective in maximizing storage capacity along walls in narrow rooms or corridors. The concept of the high-density lateral sliding shelving systems is simple: two or three rows of storage equipment placed in nearly the same footprint where there was only one!
Mobile Aisle Locking Options
Track Base Lock – keyed lock location on the carriage base, locking into the track.
MOBLOCK – keyed panel lock to secure carriage. Typically used in last carriage. Users can collapse the system, lock the last carriage, and the entire system is secured (must use closed style shelving). Ideal for high security items.
Panel Lock – safety feature used to lock hand wheel before entering an aisle. Included with each mechanical drive panel (Not Keyed).
EQUIPTO offers on-site installation by a team of dedicated professionals. EQUIPTO's experts know all facets of the product, ensuring top-quality installation.
For more information, contact one of our experts today!
Video of new PRIMA system (Pallet Rack Industrial Mobile Aisle)