Our Modular Drawer Cabinets are designed with flexibility in mind. Choose from a vast offering of preconfigured cabinets or customize your cabinets on the fly.
With one-piece welded construction, our Modular Drawer Cabinets are the perfect solution for the organization of small and large items. Store your items in less floor space and maximize the cubic space within the cabinet. Stocking and retrieval of parts and items are quick and efficient with optional additional drawer organization dividers and foam inserts.
QUALITY HAS ALWAYS COME FIRST
Equipto: All Steel Components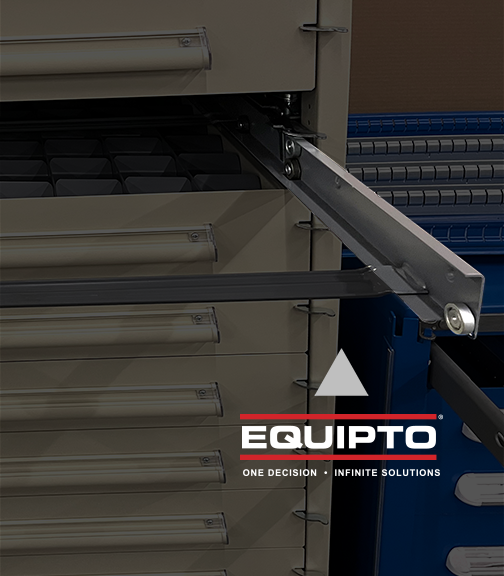 The Other Guys: Mix of Plastic + Steel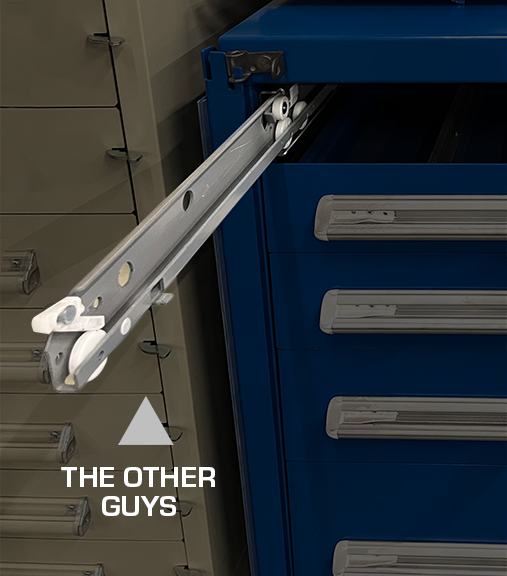 Download our Modular Drawer Cabinets brochure.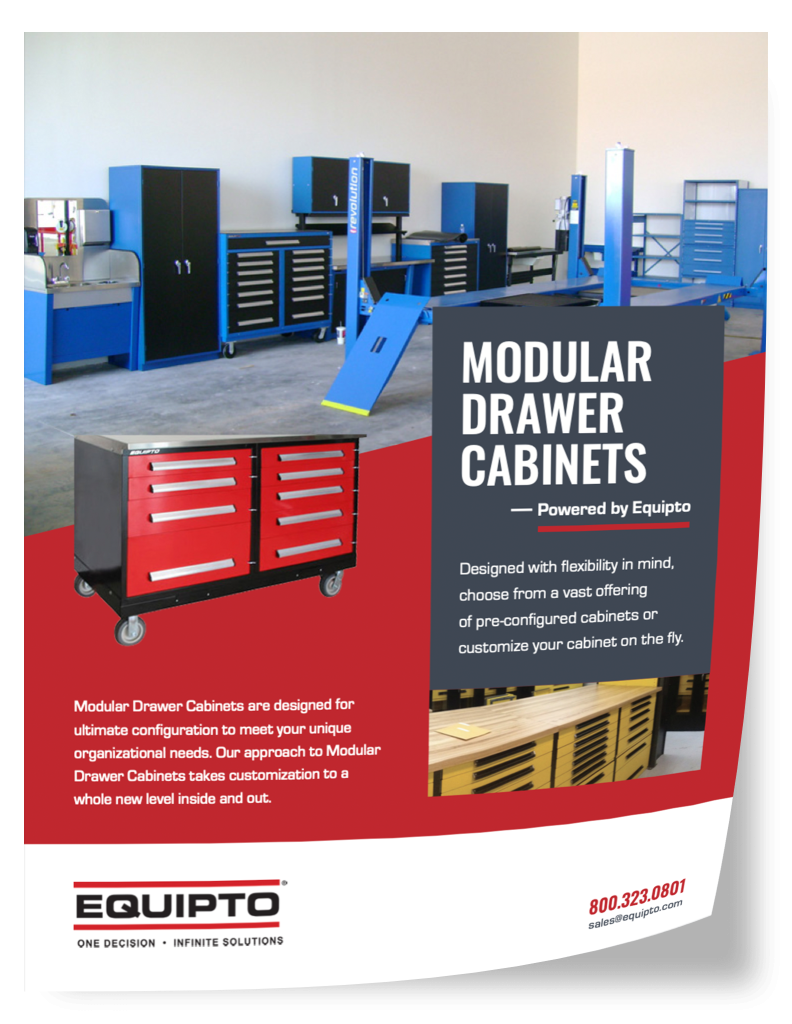 Pre-configured or Custom-Designed Modular Drawer Cabinets
Pre-Configured Modular Cabinets
Cabinets offer flexible configurations for the storage of inventory, small parts, tools, spare machinery parts, kitted hardware and provide the ability to organize those items in the most efficient method for the application.
Choose from over 100 different cabinet pre-configurations
Choose to have optional, configurable dividers in the drawers. We offer a variety of divider kit options depending on how many compartments are desired or choose to configure dividers in a custom configuration utilizing standard front-to-back partitions and multiple sizes of left-to-right movable dividers.
With brackets located at the top and the bottom of the cabinet, the lock bar spans the entire length of the cabinet for a more durable and sturdy locking solution.
CUSTOM-DESIGNED MODULAR CABINETS
Our custom-designed cabinets allow for you to design the exact cabinet that meets your unique needs for storage. When custom-designing your cabinet you can choose from the following.
Cabinet Housing: With five standard heights, five standard widths and one cabinet depth your cabinet(s) will fit in practically any space.
Drawer Options: Offering up to 16 different drawer heights and two different weight capacities (200 and 400 lbs. per drawer). Design with all the same size of drawer or change it up and fully optimize the cabinet and your storage.
Divider Options: With 15 different divider kit options — fully optimize the organization within the drawer.
Work Surface Top Options: Create a durable work surface or counter top on top of the cabinets.
Paint Options: Offering 10 designer colors. Paint the cabinet all one color or mix and match.
Standard Lock and Locking Options: All cabinets come with a pre-installed lock and optional lock-in/lock-out drawers.
EQUIPTO VS. THE OTHER GUYS
Equipped with wider fork channel areas as a standard feature, our cabinets effortlessly position and transport using forklifts. No need for additional components. Download our Modular Drawer Cabinets brochure to learn more.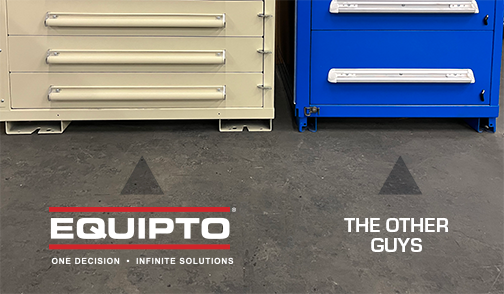 Mobile Kits: Convert a stationary cabinet to a cabinet on the go with casters and handle.
Swinging Doors: Instead of drawers on the face of the cabinet, cabinets can be designed with one or two flush-mounted doors that open to reveal either roll-out concealed shelves or stationary shelves.
Leveler Kits: When floors are uneven — a leveler kit can offer optimum stability.
Drawer Inserts: Incorporate additional organization within the drawers with drawer inserts.
Equipto's modular drawer cabinets are designed from the inside out. Explore interior and exterior design and configuration options in our Modular Drawer Cabinet Download.
Expert In-House
Installation Team
EQUIPTO offers on-site installation by a team of dedicated in-house professionals. Because they work exclusively with EQUIPTO's products, our experts know every facet of our designs, ensuring top-quality installation.
A Partner for Storage & Material Handling
EQUIPTO has the experience, expertise, and equipment to solve your most challenging storage needs.