Industrial Work Platforms & Mezzanines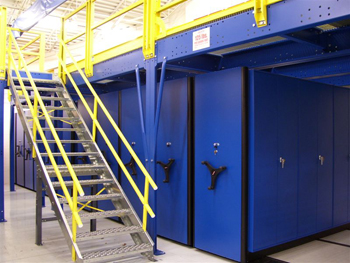 Just like your time and money, your space is valuable.
And you need to make the most of it.
EQUIPTO designs, develops, manufactures, and delivers high-performing, long-lasting industrial mezzanines, work platforms, and stair landings ideal to double or triple your overhead storage capacity and maximize your limited work areas.
EQUIPTO's industrial mezzanines, workplace platforms, and stair landings allow you to effectively and efficiently utilize empty space above equipment and machinery for:
Light storage
Production vantage points
Maintenance access
Small office space
Gain the space you need without costly new construction or inconvenient off-site leasing.
Modular Mezzanine & Platform Product Features
Industrial mezzanines, workplace platforms, and stair landings supplied by EQUIPTO are precisely engineered, expertly manufactured, and rigidly tested to provide the performance and safety you require.
EQUIPTO's industrial mezzanines, workplace platforms, and stair landings:
Modular
Prefabricated
Freestanding
Interlocking design
Easy to install
Adjustable height
Support utility channels and outlets
Variety of flooring options available
Can handle 125 pounds per square foot
Meet all OSHA and IBC guidelines
Welded uprights offer solid support
Significantly increase productivity
Improved efficiency
Designed to integrate with other EQUIPTO products
Decking options include: Anti-Skid, Bar, Tuffdeck, Grating, and Open and Solid Decking
Expert In-House Installation Team
EQUIPTO offers on-site installation by a team of dedicated in-house professionals. Because they work exclusively with EQUIPTO's products, our experts know every facet of our designs, ensuring top-quality installation.
Creating Your Custom Platform System
Configure your own platform system that will meet the exact specifications of your workplace. Because of their modular design, EQUIPTO platform components can be installed quickly and changed easily as your space requirements change. Creating a customized platform system is simple: Choose the height and length of your platform, select the type of flooring, and add any necessary railings, gates, or other accessories.
Platforms
Available lengths: 4 feet, 6 feet, 8 feet, 10 feet, 12 feet, 16 feet, 20 feet
Available heights: 8 feet, 9 feet, 10 feet, 12 feet
Flooring
Anti-Skid Tuffdeck
Bar Grating
Perforated Steel Grating
Solid Steel Grating
Railings and Drop Gates
Generation IV Rail and Kick Plate
Side-mounted rail posts
Available in 2-rail and 3-rail sections
Available lengths of 2 feet, 4 feet, 5 feet, 6 feet, 8 feet
Generation II Rail and Kick Plate
Rail posts mounted to platform
Individual rail channels and kick plates
Available lengths of 30, 42, 45, 57, 69, 72, 90, 93 inches
Drop Gates
Pivots upward
No floor space needed to operate
Accessories
Complete your customized platform system with EQUIPTO accessories for platforms and mezzanines. EQUIPTO provides these durable, reliable optional features so you can perfect your platform system, and ensure it truly meets your needs.
Extension posts
Stacking brackets
Slotted angles
Angle cutters
Grating splicer
Grating anchor
Stair treads
Galvanized steel floor grating
Supplying the Right Systems for Your Industry
From the smallest workshop to the largest eCommerce fulfillment facility, EQUIPTO provides mezzanines platforms, workplace platforms, and stair landings for a wide variety of industries and businesses:
Ecommerce Distribution/Fulfillment
Warehouses
Fulfillment centers
Automotive
Dealerships
Parts warehouses
Retail
Home improvement stores
Storage facilities
Large-scale warehouses
Industrial
Workshops
Aircraft hangars
Manufacturing facilities
A Partner for Storage and Material Handling
EQUIPTO has the experience, expertise, and equipment to solve your most challenging storage needs.
In-house experts provide on-site, high-quality installation
Company in operation for more than a century
Products made in America
Equipment sold and distributed across the United States, Asia, Africa, Central America, and South America
Diverse customer list – from Harley Davidson and Boeing to Spencer Gifts
Global headquarters in Tatamy, PA