Stairways, Ship's Ladders and Crossover Bridges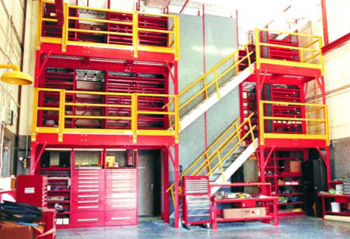 Navigating your busy workspace and vital storage areas should be a smooth, safe journey.
EQUIPTO designs, develops and delivers high-performing, long-lasting warehouse stairways, ship's ladders and crossover bridges to help you traverse and monitor your warehouse, manufacturing facility and other workspace securely, easily and efficiently.
EQUIPTO's warehouse stairways, ship's ladders and crossover bridges provide:
Safe, secure routes throughout your workspace
Paths around and over platforms, equipment, roofs, pits, trenches
Access for machinery repair
Areas for inspection or observation
OSHA compliant & IBC compliant accessibility
Industrial Stairway & Crossover Product Features
EQUIPTO's warehouse stairways, ship's ladders, and crossover bridges are precisely engineered, expertly manufactured, and rigidly tested to provide the performance and safety you require.
Stairways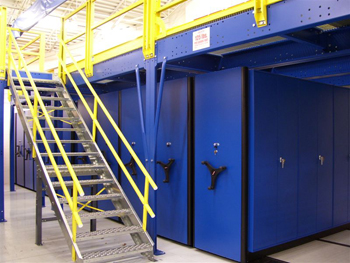 EQUIPTO's warehouse stairways:
Extended, contoured handrails
Innovative post design
Non-skid treads
More than 200 sizes available
Exceed OSHA and IBC standards
Conform to seismic code upon request
Hot dipped galvanized steel construction
Prefabricated
Easy to assembly
Cost-effective
Ship's Ladders
EQUIPTO manufactures durable, reliable Ship's Ladders that provide safe, multi-level access up to platforms and roofs, and down to pits, trenches or wells.
Non-skid treads for firm footing
Wide hand rails extend above top stair tread
Integrates easily with other EQUIPTO components
Crossover Bridges
EQUIPTO's prefabricated crossover bridges provide safe passage over conveyors, equipment, machinery, ducts, pipes and other obstacles. Crossover bridges can be used as observation platforms inside your plant or outside in the field.
Prefabricated
Easy to assemble: No cutting or welding required
Galvanized non-skid steps and platform
Meet OSHA standards
Can handle 125 pounds per square foot
Provide vertical clearance from 42 inches to 123 inches
Available heights range from 7 feet to almost 14 feet
Expert In-House Installation Team
EQUIPTO offers on-site installation by a team of dedicated in-house professionals. Because they work exclusively with EQUIPTO's products, our experts know every facet of our designs, ensuring top-quality installation.
Supplying the Right Systems for Your Industry
From the smallest workshop to the largest eCommerce fulfillment facility, EQUIPTO provides warehouse stairways and industrial platform crossovers for a wide variety of industries and businesses:
Ecommerce Distribution/Fulfillment
Warehouses
Fulfillment centers
Automotive
Dealerships
Parts warehouses
Retail
Home improvement stores
Storage facilities
Large-scale warehouses
Industrial
Workshops
Aircraft hangars
Manufacturing facilities
A Partner for Storage and Material Handling
EQUIPTO has the experience, expertise, and equipment to solve your most challenging storage needs.
In-house experts provide on-site, high-quality installation
Company in operation for more than a century
Products made in America
Equipment sold and distributed across the United States, Asia, Africa, Central America, and South America
Diverse customer list – from Harley Davidson and Boeing to Spencer Gifts
Global headquarters in Tatamy, PA