Distribution Center & Fulfillment Crossover Platforms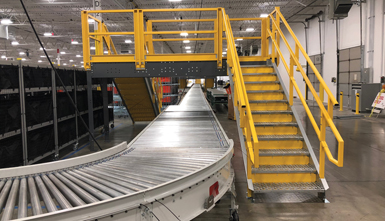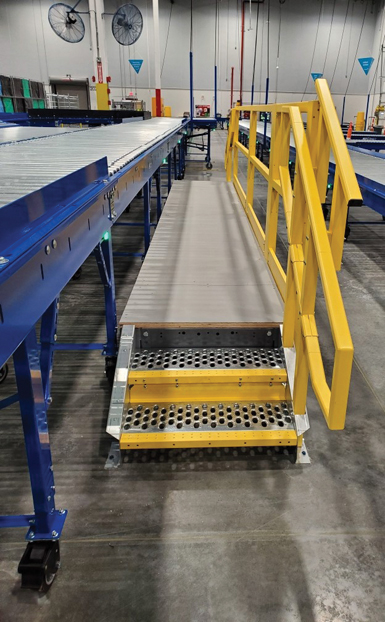 The growth of the fulfillment and distribution center market prompted Equipto to develop a more robust set of crossover bridges for higher traffic/larger crossover spans as well as the growing need for code compliant egress within these environments.
We call them platform crossovers and are a combination of OSHA or IBC compliant stairways and a 4′ wide platform (in a variety of lengths). A variety of decking are available – bar rack, perforated decking, solid decking and tuffdeck surfaces. A variety of deck heights are available as well. In addition because of the design of the posts the height of the platform can be adjusted in the field as the installation of the conveyor requires last minute changes.
In addition to the flexibility of height of the deck, our standard design provides for multiple configurations of the crossovers with the same initial kit of components, allowing for multiple shapes to be configured when the need to change the path of egress arises.
Along with the flexibility of design, layout and height adjustment, the platform crossovers are ready for use in high seismic areas and can be provided with stamped drawings and calculations when needed for city, county or state code compliance.
Equipto also has a line of low rise landings to position employees at the correct height next to a conveyor or other work surface, most specifically in sorting applications. These units are available in a variety of lengths and with several different stairway configurations – one platform end, at both platform ends, with one or two railings.